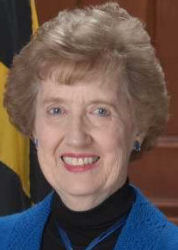 Senator Jennie Forehand has long been an advocate for victims of sexual assault, including human trafficking.  Her office sent MCASA this important information about public policy efforts next year.
While important legislation to increase penalties and jail sentences for human traffickers of young adults was stopped in a House committee in 2013, Senator Jennie Forehand of Rockville told MCASA she will again file this bill in the 2014 legislative session. The bill, filed at the request of the Maryland State Police, will make trafficking of a person who is 18, 19 or 20 years old a felony level crime, instead of a misdemeanor, without having to prove force, fraud or coercion.  This is the current level of the crime for trafficking someone under 18 (a minor). Senator Forehand's bill, filed in the House by lead sponsor Delegate Kris Valderrama, addresses a deficiency in our current human trafficking law, one that sends a signal to criminals that Maryland does not take human trafficking seriously and that we look at human trafficking not as a violent crime with an ever growing number of victims but more as incidence of moral turpitude. In Maryland, we are gaining better awareness through the efforts of law enforcement and victim organizations.  What was once looked at as prostitution we now see as a wide-scale criminal enterprise.  Law enforcement agencies tell us that approximately half of the victims they uncover are in this older age range and are not pursued often because of the lesser penalty. Anne Arundel County had a case of a 19 year old who was trafficked.  Ultimately, the victim served three months in jail. Her trafficker was charged with a misdemeanor, served 6 months and was back in business again. Traffickers and their victims move from place to place quickly.  If a trafficker is charged with a felony, a court commissioner could hold him or her longer. If the trafficker flees to North Carolina, that state likely would not extradite him or her if they are wanted for a misdemeanor. The Internet has made commercial sex readily available at almost any location.  Places like BWI which is driving distance from five states is a large center for commercial sex trafficking.  Maryland is on the I-95 corridor a major thoroughfare for trafficking and now we are adding a gambling casino.  This cash rich business is growing at a tremendous rate. The young women that have been drawn into this life typically come from bad situations and now they are in an even worse place.   They are psychologically stunted from the abuse they suffered whether they are 16 or 19. If the State is going to make progress in this war on traffickers, it needs better tools to take them out and keep them out of commission for a long time.  Expanding the felony crime is an important tool to do this. We have members of the law enforcement community, advocacy groups as well as some survivors of human trafficking.  We appreciate MCASA's work in the area and look forward to passing this important legislation next year. (
Senator Forehand's Chief of Staff, Kathy Dunn assisted with this article
) This article appeared in the 
Summer 2013 issue of Frontline
.